Celebrities
Renuka Shahane: I would like to act till I die
Written by Komal RJ Panchal | Mumbai | Published: March 14, 2018 6:57 pm Renuka Shahane as Mrs Flory Mendonca in Arjun Mukerji's Three Storeys.
Renuka Shahane has moved on from being the docile Pooja Bhabhi in Hum Aapke Hain Koun..! After being away from the big screen for 14 years, the actor has made a comeback as Mrs Flory Mendonca in Arjun Mukerji's Three Storeys, produced by Excel Entertainment. Renuka as Mendonca is an older woman who has been trying for years to sell her flat at an exorbitant price for a complicated and painful secret reason.
In this interview with indianexpress.com, Renuka Shahane talks about the life she chose to live while she took a sabbatical, and how and why she makes it a point to raise her voice on social media when there is a burning issue that needs attention.
Q. You are back on the big screen after 14 years. Why did you choose to make a comeback with Three Storeys?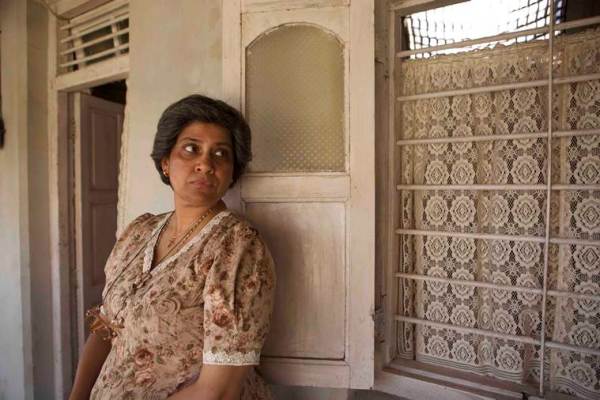 There is so much mystery in all the stories in the film. There are so many intriguing details. The look is interesting too. A nuanced role gives you an opportunity to give your best to it. It was not a simple linear role, so it gave me something to get my teeth into. Playing a Goan Catholic lady wearing that make-up and look, the external factors about the role were as exciting and challenging as the role itself. I am so happy that Ritesh and Arjun thought of me for this as not many people would think that I can pull off a character like this. They had a vision. They were so sure about it. For me, it was a leap of faith.
Q. So now can we safely say that we will see you on-screen more often? And, are we going to see you in more 'experimental' roles?
Well, most definitely! It has come at the right time, when my elder one is finishing his tenth standard exams. So, that would leave me with some free time to step out of the house a bit more. So, I am looking forward to work and more stories. Three Storeys might prove to people that I can do more than smiling and being 'nice'.
About doing 'experimental' roles, I come from a theatre background, so I have taken up experimental roles before. Challenging roles are more interesting to play. That's what makes an actor. There is a range of roles I had played in theatre, even in TV. But since Hum Aapke Hain Koun..! went on to become such an iconic film that it was almost impossible to wipe out that memory or my role, and I wouldn't even want to do so.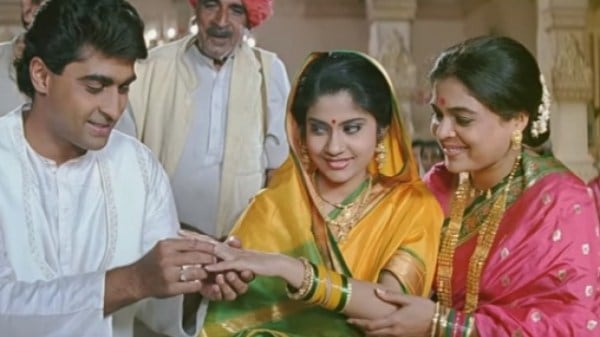 Q. What is your take on the longevity of female actors in Bollywood? We have male stars romancing much younger actresses, and actresses rarely get meaty roles.
Actually, when it comes to me, you can't really compare a Shah Rukh or Salman and me, as I was always a character actor. I have never been a conventional heroine. That comparison, I won't buy. Heroines today definitely work after getting married and becoming a mother. Look at Kareena Kapoor Khan, she commands the same kind of respect and same kind of price. So, things have definitely changed for the heroines today, even after they get married. Look at our girls, Anushka Sharma and Rani Mukerji, everybody takes minor breaks and comes back. They are all playing titular roles today. So, the longevity factor is better today. When it comes to me, I would like to act till I die. There are roles for everybody of all ages. But yes, heroines do get younger and younger and the actors are much older. This is because there is a stereotype of a macho hero. So, until we do conventional stuff, this formula won't change. In unconventional work, things are very different. I think SRK in Dear Zindagi proved that. It proves both cases actually. So, the more the leading heroes like Akshay Kumar, Aamir Khan, Shah Rukh Khan and Ajay Devgn do different kind of work, they will be seen with different kind of women. However, if they stick to doing what they are known for doing and loved for doing, then things won't change.
Q. You are quite vocal on social media.
I was always vocal on social media, but my interactions were not 'public'. I didn't know earlier that there was something for 'public' and something for 'friends'. So, when I realised if I had my posts public, then it can reach more people. Earlier I would share with friends only. I was always like this on social media. Since I am an actor, people are more curious about what I have to say. Initially, people used to tell me how they loved me as Pooja Bhabhi in Hum Aapke Hain Koun..!, or from Surbhi, but now people tell me that they loved my social media posts. I think that's better as people are at least discussing burning issues now. This gives me total freedom of expression, and I love it.
For all the latest Entertainment News, download Indian Express App
© IE Online Media Services Pvt Ltd