Celebrities
Karan Johar on the star power of Salman Khan: I probably will go to watch Race 3 instead of Lust Stories
Written by Komal RJ Panchal | Mumbai | Published: May 19, 2018 3:19:55 pm Karan Johar was present at the trailer launch of his upcoming Netflix film, Lust Stories. Related News
Directors Karan Johar, Zoya Akhtar and Dibakar Banerjee launched the trailer of their upcoming Netflix film, Lust Stories on Friday. Lust Stories is an anthology of four stories told by four film directors: Karan Johar, Zoya Akhtar, Dibakar Banerjee and Anurag Kashyap. The film stars Manisha Koirala, Bhumi Pednekar, Radhika Apte, Neha Dhupia, Kiara Advani, Vicky Kaushal, Akash Thosar, Jaideep Ahlawat, Sanjay Kapoor and Neil Bhoopalam.
Lust Stories is releasing on Netflix on June 15, and Race 3 starring Salman Khan is also releasing on the same day. On this clash, the Ae Dil Hai Mushkil director was asked whether Lust Stories has the power and lust to overpower Salman Khans Race 3. On this KJo said, "Of course not! Salman Khan is on a different platform. He is the big master of mainstream Indian cinema."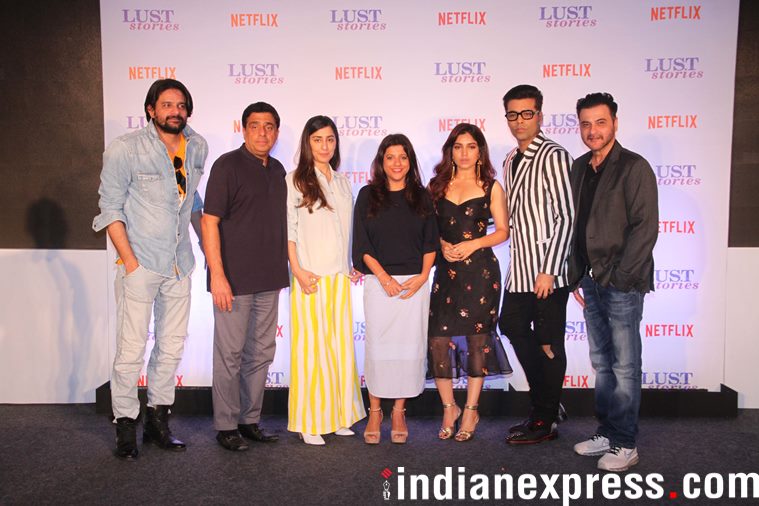 The team of Lust Stories at the trailer launch. (Photo credit: Varinder Chawla)
"Race 3 is going to be a humongous film. It is a franchise film and it is a totally different film with a totally different syntax. We are not competing with him", he added.
See photos | Karan Johar, Bhumi Pednekar and Zoya Akhtar release the trailer of Lust Stories
Johar further stated how he doesnt have the ability to fight with Salman, the hero of Indian mass audience. He said, "We do not have that ability to fight with Salman or Race 3. We are actually very happy four filmmakers, who have made a tiny little film for which we are grateful to Netflix. We dont have right to compete with the magnitude of Salman. I probably will go to watch Race 3 instead of Lust Stories on June 15."
Also read | Lust Stories director Karan Johar: Sex is like love too and these two feelings can coexist
Zoya Akhtar earlier said in a statement, "Viewers today demand freedom in how they consume entertainment and since our stories have evolved to reflect modern sensibilities, so should the medium. Its very exciting to make my Netflix debut with this film, and I cant wait to see how a world audience receives it."
For all the latest Entertainment News, download Indian Express App
© IE Online Media Services Pvt Ltd More Related News